"WE DO TEAM BUILDING, INTERACTIVE MUSIC PERFORMANCES, CONFERENCE ENTERTAINMENT AND TEAM TRAINING."
Drum Cafe are suited for the following events and activities:
A high energy session to energise delegates. An energiser session makes the event interesting and creates a powerful metaphor for unity. One of the most powerful corporate event ideas. Ice Breakers for meetings must be relevant, fun and energising at the same time – Drum Cafe deliver all that and more!
Interactive drumming is a great way to wake delegates up, break the ice and create a relaxed, enthusiastic and focussed atmosphere for a conference . We have been told many times that the level of focus after drumming is the best a CEO has ever seen after a keynote speech. A focussed and positive audience is GOLD for conference organisers and we promise to deliver that to you.
Our Team Training events are about using the power of the metaphor to create insights around working together . We use drumming as the basis for learning , to teach teams about how they collaborate, communicate and lead. The events can be highly customised for a specific message or learning.
We create a metaphor for team building that suits your event. For example different departments, like different rhythms, combine to form something greater than the sum of its parts. The orchestra is a metaphor for Team Unity. We can suggest many staff training ideas suited to your desired event style.
Your clients have seen it all … give them something completely different that will create a magic atmosphere . It breaks the ice like nothing else and we have seen delegates literally grabbing their phones to call and tell people about what they just experienced… an orchestra of 300 drums after dinner is a powerful spectacle.
An interactive drumming or Boomwhacker session will create an electric after dinner presentation which both breaks the ice and lifts the energy in preparation for an after dinner speaker. We can deliver this event after the main course … It will make any dinner a night to remember. Let this be one of your best ever conference entertainment ideas
Full Stage Show Entertainment
Our stage performances can be one or two musicians at the entrance to an event or a full stage show with a cast of 20 and full sound and lighting rig, including drumming , singing, dancing and music from around the world. We have created huge stage shows for product launches for the likes of Miss World , the Olympic Games and at Wembley stadium.
One of the most fascinating and exciting company party ideas you will ever see.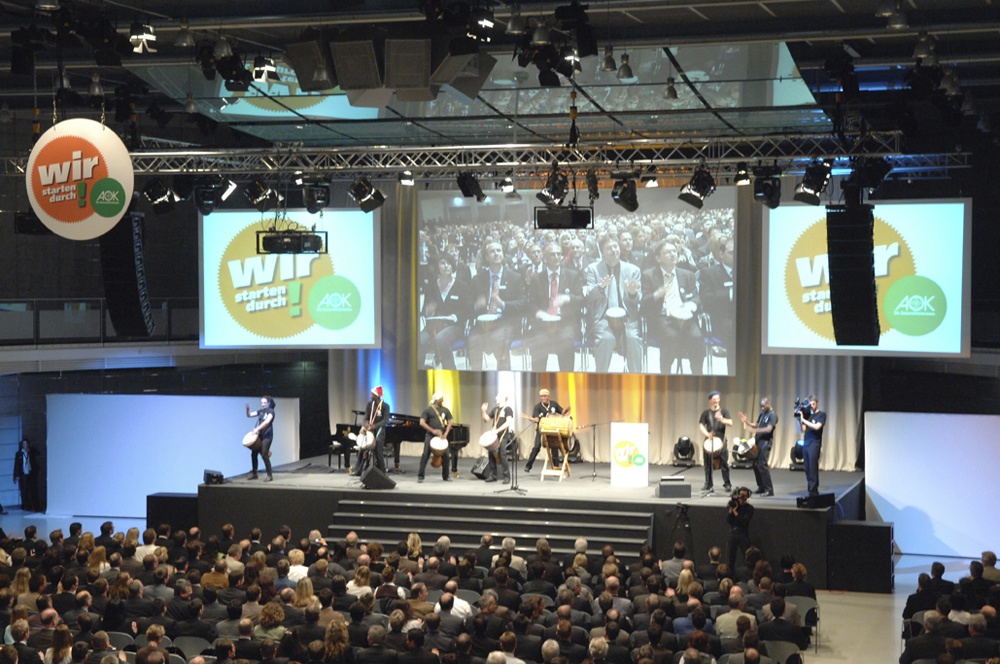 Incentive Event Entertainment
When there is a massive expense , involving international travel , Incentive events must be impressive , fun AND relevant.  They must create an atmosphere of celebration for being part of the company but also be personally interesting for the participants….. the relevance is that they remind the audience about unity and community.
Product Launch Event Entertainment
When creating a product launch your goals are to make the event one attendees will never forget , and to attach an experience of excitement and innovation that the attendees can attach to the product. An orchestra of 300 drummers will certainly do that!
We create an event that matches the enthusiasm the company has for this new product… innovative , energetic and powerful. There is no limit to what we can do including elements such as Fire , Water , lighting and a huge stage show … We are very very experienced in events, so lets get together and present you with some ideas.
We deliver World class Product Launch ideas
Our breakout event is up to 3 hours long and involves splitting the group into different sections, each with their own facilitator . The goal here is a more intimate event, creating powerful learning about teamwork and collaboration . There is also an element of competition that is playfully included to generate passion and pride in ones team. The breakout event has become our fastest selling product.
This event is more intimate than the single room event and slowly creates a powerful experience of unity and collaboration. Breakout Events are Fun Team building activities that create unity.
Interactive Boomwhacker Events
Boomwhackers are plastic tubes tuned in the pentatonic scale. These are used both as an addition to our drumming or as a standalone event. Boomwhackers are both intriguing to participate in and fun to watch.
By giving every delegate a boomwhacker, for between 10 and 10,000 people, we transform the audience into one massive musical instrument. This has to be seen to be believed!
Boomwhacker events are an excellent form of experiential marketing and keep your audience revitalised and engaged.
Stadium or Large Concert Entertainment
Drum Cafe have a long history of delivering massive Stadium Events… from Wembley for the 'LIve Earth' opening piece, to Nelson Mandela's Concert in the Park, to the opening ceremony of the Olympic Games in Beijing and the Soccer World Cup in Johannesburg… We can create a massive stage show and even do interactive music for an audience of up to 20,000.
Drum Cafe can create an event for any size audience, interactive or performance-only, with a team of up to 100 drummers if required.
We have delivered over 48,000 shows and have the experience to add magic to your Concert or Big Stadium Event. Although we take great pride in our drum sessions and drum workshops, our stadium events have to be seen to be believed!
If you want to start your conference off with an electric and energising show , that will focus and excite your audience within minutes , try interactive drumming as an opening ceremony. This is the best way to get everyone feeling present and relaxed and ready for the big day ahead.
After delivering our interactive drumming session, we hand over a group to you who are focussed and relaxed at the same time.. An excellent start to a conference and your best ever corporate event idea.
Drum Workshops for Schools
Drum Cafe create interactive events for everybody… Teachers students and even parents. Get headmasters, students teachers all doing something TOGETHER.
The beauty of a Drum Cafe event is that in this modern world of separation between age groups we have founds something that both groups find "cool"… Drumming is popular with teenagers and teachers and creates a powerful moment of unity for the whole school
We have delivered events to every age group, event size and type of school. Drumming is a healthy community building exercise that is both relevant and fun.
Private Party Entertainment
Wow your guests with a world class band of African, Indian & South American music. Our goal is to make your guests go home feeling that was the best party ever… Interesting , fun , exciting and different.
When did they last have a jam with 200 other guests and the best drummers in the world?
We can include music from any country in the world and make the Party one to remember
This is a Company party idea you will never forget!
Drum Cafe have years of experience in creating dynamic and exciting Company Road Shows and Entertainment Ideas in the UK. We can design a bespoke event that creates both drama and theatre as well as an underlying message which fits in with the spirit of the event . Whether it be a roll out of a product launch or a Company Merger the dynamic event we create will energize the audience and leave a powerful message of Unity and connection with the company.
Year End Party or Christmas Party
End the year off on a high note with an interactive drumming workshop that unites and connects your whole team. Whether its for 20 or 2000 people, our interactive sessions create an atmosphere of celebration and unity that is the idea event entertainment idea. Contact us to find out about our huge range of party entertainment ideas .
We believe deeply in what we do and Drum Cafe have a talk that we have delivered at over 6 TEDx events around the world. The talk is about communities needing physical group activities to bond them , about how tech can get us away from true connection , about how UBUNTU, or the power of community in people is what heals us and makes us feel happy… Drumming is not only fun , it also makes a lot of sense .
Our TEDx talks are an awesome exmple of indoor team building ideas