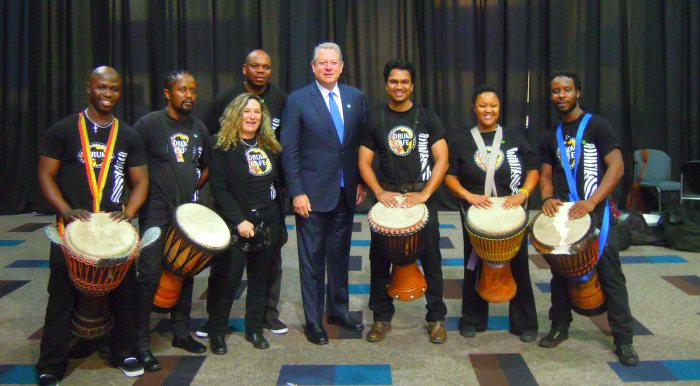 Al Gore, former US Vice-President and climate change lobbyist, has launched the African branch of the Climate Reality Project, which aspires to assemble individuals and organisations to implement eco-friendly measures and "spread the truth" of climate change to communities on the continent.
Towards a 700 attendees audience at the Climate Reality Project workshop throughout three days, in Johannesburg, on Thursday, Gore said the African division of the organisation would look to collaborate with "climate leaders", African governments, nongovernment organisations (NGOs) and scientists across the continent to recognize continent-specific solutions to global warming.
"This is a critical time for Africa. Although the continent produces a relatively small proportion of the carbon pollution driving global climate change, the continent bears a disproportionate share of its impacts.
"Drought, desertification and food shortages are becoming more widespread and the continent faces daily reminders of the dire consequences of inaction. The good news is that, if we act together now, we can solve the climate crisis, [with] Africa already playing a key role in that effort," he commented.
Strategic African Objectives
The Project would work to attain quite a few strategic goals on Africa, including  the creation of a network and communication hub for qualified Climate Reality Project "leaders" and others in the continent to gather and share information and resources.
Food & Trees for Africa founder Jeunesse Park, who would head up the activities of the Climate Reality Project's newly formed African branch, said its formation came at a crucial time for the continent, which faced increasing climate instability.
Under the umbrella of the South African NGO Food & Trees for Africa, the division would in addition develop wide-ranging communications "assets", including workshops, events and social channels to "tell the story" of climate change in Africa.
 "While this presents us with many challenges, we also have the unique opportunity to not only help millions of Africans to understand climate change, but also to innovate and implement solutions that we can share with the rest of the world," she told Engineering News Online.
http://www.drumcafe.co.uk/wp-content/uploads/2018/03/DC_logo_75px-1.png
0
0
Brett Schlesinger
http://www.drumcafe.co.uk/wp-content/uploads/2018/03/DC_logo_75px-1.png
Brett Schlesinger
2014-03-21 15:23:40
2017-09-15 10:55:09
Drum Cafe With Al Gore at African Climate Change Programme Launch