"DRUM CAFE CREATE INTERACTIVE EVENTS THROUGH MUSIC USING BOOMWHACKERS, DRUMS AND OTHER MUSICAL INSTRUMENTS"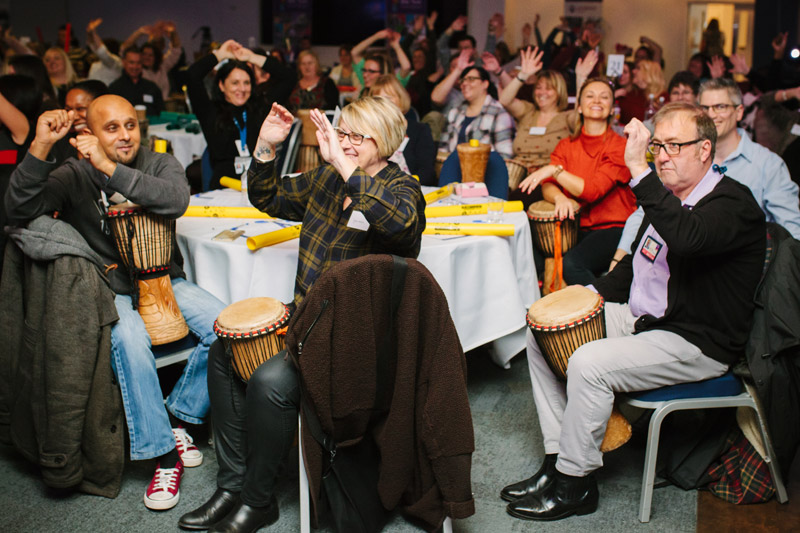 Select an Interactive Event Entertainment option below:
"INTERACTIVE ENTERTAINMENT ENABLES THE AUDIENCE TO BE PART OF THE SHOW..."
Interactive Entertainment is the perfect accompaniment for any meeting or event to ensure that your audience or delegates remain focused. We provide Interactive Event Entertainment for groups of between 10 and 10,000 people, in any venue worldwide.
Interactive Entertainment enables the audience members to be part of the show, typically where each person gets a drum to play, and is facilitated by our team of world-class facilitators / drummers.
When a group of delegates realizes that they will be playing drums or boomwhackers in a large group of people, the excitement can be felt immediately.
If you imagine what it felt like to watch a performer compared to being a performer, whether it be as an actor singer or speaker… you can realize the immense difference between interactive entertainment and normal performance entertainment.
Different parts of the brain are stimulated when performing, and the emotional experience of an interactive event sets it apart from virtually all other kinds of delegate entertainment.
What results are achieved through Drum Cafe's Interactive Event Entertainment?
Mental and physical Shift : We physically relax people while at the same time mentally focusing them.
Metaphor for Teamwork : The interactive orchestra is a powerful metaphor for unity and collaboration. We create analogies that make the session both meaningful and relevant.
The WOW factor …. Interactive music creates fascinating entertainment that will never be forgotten. We create theater where the audience are the performers alongside world class musicians and artists.