"FUN AND ENGAGING, ON BOTH MENTAL AND PHYSICAL LEVEL..."
Team building is an essential part of any corporate or executive team. The importance of this to create a well-functioning and unified team cannot be overstated.
Team building exercises and activities have the aim of creating unity and a positive feeling of cohesion in a group.
There are of course many ways to achieve this but we have found that participating in an activity that is both fun and engaging, on both a mental and physical level, is a great way to get people's enthusiasm up.
"ONE GIANT INTERACTIVE ORCHESTRA!"
One of the most motivational, effective and fun methods we have of delivering corporate team building  is to turn the audience into one giant Interactive Orchestra!
Most people attending an interactive corporate team building event will never have taken part in a fun orchestra of 300 drums or more.
This alone will spark the attendees' interest and keep them actively involved in the team building exercise or activity.
The smiles we see on participant's faces lights up the room; the exhilaration of being part of a 'living' orchestra is virtually a bucket list activity for most involved.
Larger group events are even more compelling in that the orchestra can be up to 12,000 delegates . (yes…we have 12,000 drums!)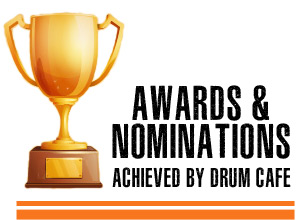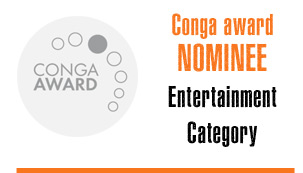 "SMALLER GROUP TEAM BUILDING... FUN FACTOR REMAINS THE SAME"
Smaller group team building events are more intimate; the essence of the motivational and fun factor remains the same however, where everybody taps into the group energy.
The larger group events would be done in theater- or conference style layouts, while the smaller group events might be done in a circle or semi-circle . (Smaller group events range from 10 to 50 pax , and larger group events from 100 to 12,000).
Ideas for Fun Corporate and Executive Team Building
"DRUM CAFE CREATE TRULY MEMORABLE AND FUN TEAM BUILDING ACTIVITIES"
Some of the fun team building ideas that Drum Cafe have created for Corporate and Executive team building events include:
Creating a company song involving drumming to be performed and captured on video.
Splitting the group into smaller breakout groups in order to create a slightly competitive feeling; each with their own facilitator.
Building the Drum workshop into the presentation. This enables audience participation during key moments of the show in order keep delegates wide awake, interested and attention focused.
An activity for the whole company. This is often a historic moment for the company , and is very often the first time the entire company is involved in doing one team activity, in unison, at the same time. There are not many corporate team building activities that can be done at the exact same moment without splitting the group or leaving the room, and this is by far the most effective we have come across.
Drum Cafe have the expertise to deliver any of these motivational activities to you and create a truly memorable and fun team building activity for all involved.